10 Jan 2022, 12:00 AM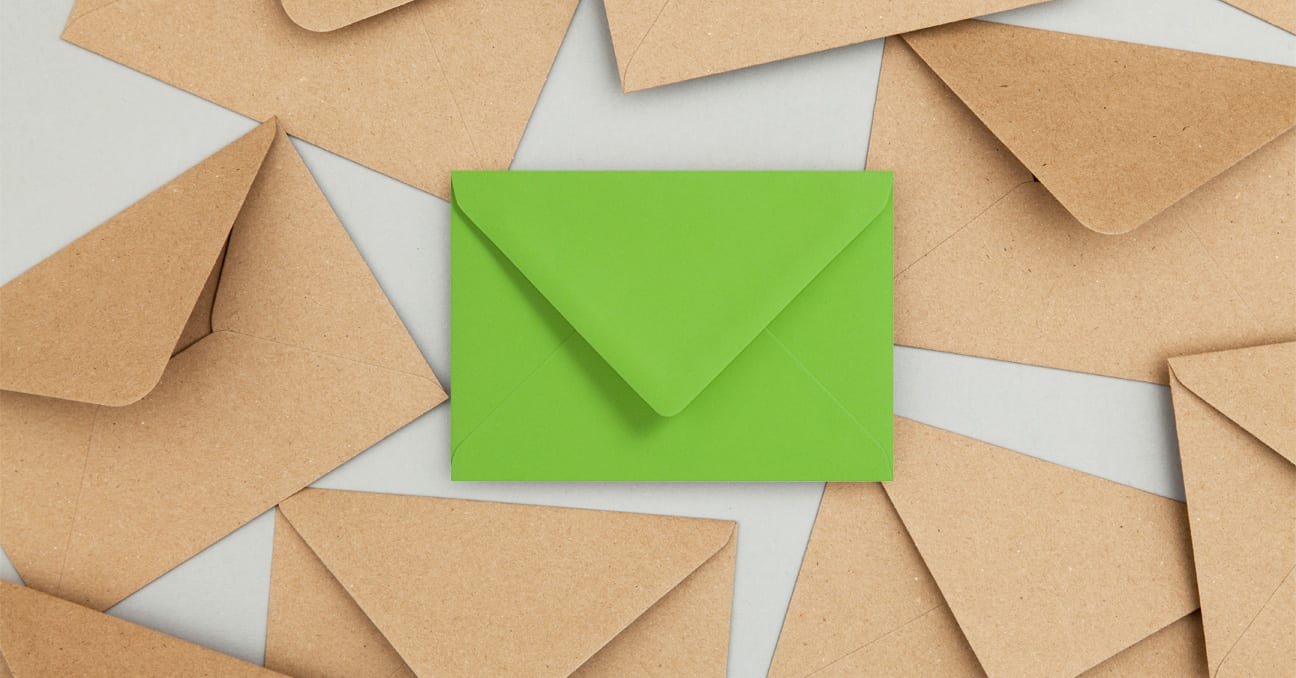 In this digital age of information, consumers are bombarded with marketing messages from every direction.
It's easier than ever before to build your own brand, gain an audience on social media or become a content curator. The average person receives more than 2900 marketing messages a day and it's becoming increasingly difficult to compete amongst the noise and to grab consumers attention.
While you should pay attention to your online presence you should also consider a good direct mail campaign as it is an effective way of gaining visibility in today's world and making a connection with your customer.
What is direct mail?
Direct mail is a form of marketing that promotes a product or service through printed advertising materials in the post.
Too many emails
Email is still a crucial part of every consumer's day and it is continuing to grow even with other methods of communication being introduced. Thanks to the low cost of email and the incredible insights you can obtain with it, email is central to any businesses marketing strategy.
However, according to the Direct Marketing Association (DMA) 62% of consumers have abandoned an email address or would consider doing so because of receiving too many emails.
Whilst consumers do receive unwanted post it is significantly lower than junk email, we receive on average 121 emails per day compared to 2 "junk" mails a day.
Direct mail
Studies show we are more eager to receive direct mail than to receive an email, 70% of consumers are curious to find out what's in their letter box.
Our eyes often glaze over when reading online advertising, closing any pop ups immediately without a second glance however, research shows 74% of consumers always or sometimes notice advertising in direct mail.
And despite Millennials being known for taking endless selfies or being tethered to a screen, 47% of millennials look forward to checking their post box every day and 25% of millennials consider reading direct mail a leisure activity.
Direct mail lasts longer
Even though direct mail is less disruptive than email and can be read at your own leisure, The DMA's research shows that 79% of consumers open direct mail immediately.
Not only that but consumers often keep their mail in visible areas of their homes creating more opportunities for a brand to be seen and engaged with. In contrast, only 45% of consumers open their email straight away despite routinely checking their email throughout the day. Having an unengaging subject line can send the email further down the list and often never gets opened at all.
The average lifespan of an email is just 2 seconds, compare this to direct mail which has an average life of 17 days!
Why it's important to personalise your communications
Consumers crave content personalisation and with 86% of UK brands currently personalising their communications, consumers have now come to expect it.
Personalising your mail means you are increasing the chance of your mail being opened. According to the DMA's report, personalised direct mail achieved an average 6.5% response rate vs just 2% for non-personalised post. Adding a person's correct name and address can increase your response rate by 74%.
However, it is not just about addressing your customers by name on the envelope. It's also about providing personalised content, product recommendations and offers and a current relationship does make a difference. Acknowledging historic dealings with the consumer increases response by 34% and adding relatable images and tailoring to gender increases response rate by 23%.
Whilst you can and should tailor your email communications to your customer's needs, personalisation is more effective in print media than email as the audience recognises and appreciates the efforts and costs. Furthermore, consumers understand and remember what they read on paper better than what they read on a screen.
Personalise your envelopes
Here are some of our ideas on how you can personalise your envelopes:
Choose coloured envelopes depending on the age or gender of the recipient.
Add an envelope liner, paper that has been measured and cut to fit on the inside of an envelope, another unique detail that will make your mail stand out.
Design your own custom printed envelopes, what better way to attract the attention of your busy customer than to have the envelope appeal to them personally.
– See our blog: A guide to Litho vs Digital Print.
Experiment with different envelope sizes. Oversized envelopes have the greatest household response rates over other mediums at 6.6% (followed by postcards at 5.7%). At 37%, oversized envelopes have the greatest household return on investment over other mediums.
Use a real stamp on your mail, or even a personalised stamp, this can vastly improve open and response rates.
What do we recommend?
Combine direct mail with other marketing channels to capture different audiences, it's been proven that when consumers are exposed to your message through more than one medium it boosts response rates and brand recognition.
Divide your customers by age, gender, interests, behaviours and purchase history and tailor your mailshots around this, the more personalised the experience is for the consumer the more likely you will see a great ROI.
Do not overwhelm your customers with a constant barrage of mail, this will only hurt your brand.
Where possible, only include one offer as several messages and offers will confuse your readers.
Always include a call to action to encourage the recipient to act immediately after receiving your message.